IX International Symposium on Particles, Strings and Cosmology
General Information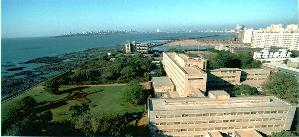 Tata Institute of Fundamental Research (TIFR) is located near the southern most tip of Mumbai. Known formerly as Bombay, the city is the financial and commercial nerve centre of India. It is conveniently connected by air to other cities of the world.
The picturesque campus has well equipped conference and lecture halls and the large modern Homi Bhabha Auditorium, which will be used for the plenary sessions of the Workshop.
Valid visa is required to enter India for all nationalities. Visa can be obtained from the nearest Indian Consulate/Embassy to you. Upon registration, a letter of invitation will be sent to you. But the easiest way is to request for a tourist visa. Please let us know by email if you face any difficulty in this process.
Miscellaneous information



Internet Facilities

TIFR is connected to a 2Mbit VSNL gateway. File transfer rate up to 160 KByte is possible for individual user. There will be 15 PC's for the workshop participants to check e-mail etc. There will be 4-5 ports with fixed IP address for people bringing their laptops. We have some clusters of computers for doing some Pascos software which can be used if required. There will be a few colour ink-jet printer and colour laser printer for people who want to make last minute change to their transparencies.



Currency

Indian currency is in Rupees (Rs.) and the current (June 2002) exchange rate is approximately Rs. 49 = US$ 1.



Banks and Shops

Banks are generally open from 10:00 hrs to 14:00 hrs, Monday to Saturday. Some of the Foreign banks are open till 18:00 hrs. There are many banks close to the hotels. One National bank is located on the TIFR Campus.

Shops are generally open from 10:00 hrs to 19:30 hrs Monday to Saturday. Some shops are also open on Sundays. Major shops accept most international credit cards.



Airport

The International Airport of Mumbai is at Sahar which is about 25km from the Institute and the hotel(s) where accommodation has been arranged. The hotels will organize pick-ups from the airport free of charge. Besides this, pre-paid (fixed fare) taxi service (special stand in the Airport) is also available (approximate fare Rs. 400).
Hotel courtsey coaches will be available at the airport on arrival. Please provide flight details (as early as possible) through email at pascos@theory.tifr.res.in



Weather

December/January is beginning of the best season of the year and is generally dry with day/night temperatures between 15-25 Celcius. The northern parts of the country will be much cooler - under 5 Celsius in the night.



Local Transport

Mumbai is well serviced by metro bus, rail and taxi. Shuttle bus will be provided for the participants between hotels and the Institute.



Tours for Participants

Pre- and post- conference tours on some popular tourist circuits have been worked out in detail for participants. Please see links alongside for details.



Correspondence

Postal
PASCOS '03
Tata Institute of Fundamental Research
Homi Bhabha Road
Mumbai - 400 005, INDIA
E-mail
pascos@theory.tifr.res.in
Telephone &nbsp
+91 22 2152971 Ext. 2244/2359
Telefax
+91 22 2152110/2152181
---
Last updated : July 31, 2002
Email: pascos@theory.tifr.res.in