Tadoba Andhari Tiger Reserve

This is the report of a trip to Tadoba in May 2013. We arrived at the tail end of a heat wave, with daytime temperatures going up to 48 Celcius. The five hour drive to and from Nagpur can be uncomfortable without a well airconditioned car. It is mandatory to have an approved guide on a trip into the jungle; these have to be booked online a month in advance. One can take two trips into the jungle each day: one beginning at 6 in the morning and ending at 10, the other starting at 3 in the afternoon and ending at 6:30. The viewing was good since sunrise was around 5 AM and sunset after 7 PM. Tadoba is currently overcrowded with tigers, and it is possible to sight around six different tigers in each trip.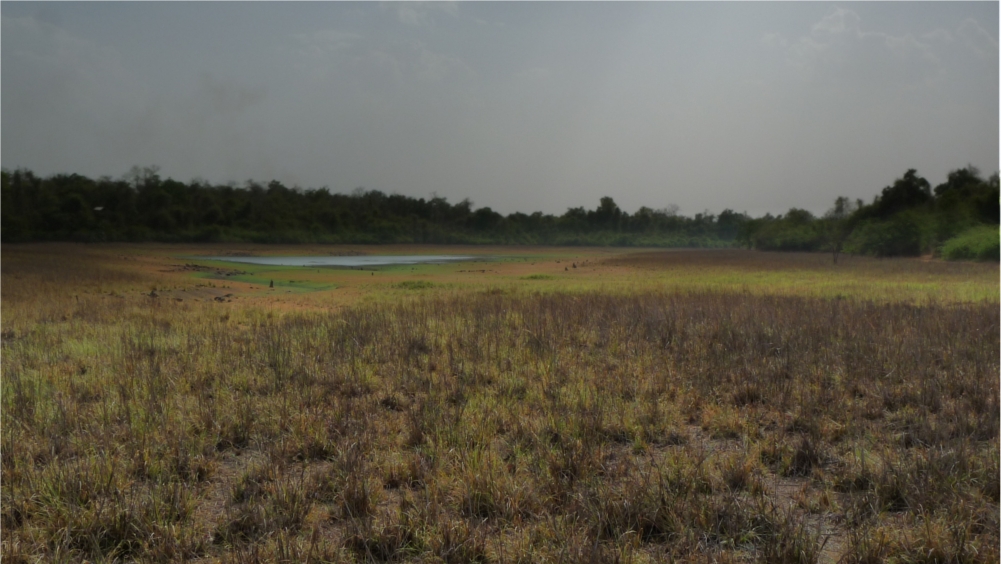 A large part of the reserve consisted of bamboo forests, interspersed with teak, tendu and mahua. May is after the flowering of the mahua and the flame-of-the-forest, so these brilliant red flowers were gone. There was a small number of highly visible yellow flowering amaltas (Laburnum). Some of the pale Indian ghost trees had started changing to the red colour they take on during monsoon. Some of the grasslands, especially close to water were the purple khus; otherwise the general effect was of tall seared brown grass, with patches of low green grass.
Tadoba has been very successful in preserving tigers. We had many sightings of tigers: from the aging Yera Anna to the prime Waghdo and the younger Gabbar. The males seem to have colourful names, whereas the females are known by their ranges and number of cubs; this throws an interesting light on the village society of the area. In four trips to the jungle we saw three females, four males, and four nearly weaned cubs. Apparently twenty four cubs have been born this year. The park may soon exceed its carrying capacity of tigers.
Wild dogs, called the dhole, are another spectacular sighting. We saw two different family groups; the larger had about ten individuals, including cubs. We sighted both groups in the evenings, as we were leaving the jungle.
We saw two different bears, one late in the morning, the other in the evening. The morning's sighting was of a large specimen, which walked along the road until it sensed our approaching jeep. At that point, it walked into the bordering jungle, and started breaking up a termite mound to eat the insects. It stayed within sight for more than half an hour. Later jeeps saw it cooling off in a water hole. The smaller specimen was shier. It was seen by different groups of jeeps near a road over a period of an hour or so, but every time a jeep came along, it would disappear into dense jungle. Interestingly, a bear's footprint looks very human at first sight (see the picture).
We did not see any leopards, although there were scattered reports of sightings. We passed a family of wild pigs several times at the same spot. Cheetal and Sambar were common. We also had sightings of the barking deer and Chausingha. There were herds of Gaur with calves, and solitary bulls. Nilgai have apparently disappeared from the area as bamboo has taken over grasslands. Bands of langurs were common everywhere. The common mongoose and its shier cousin, the ruddy mongoose, were also seen.
Termites are widespread in the park. It is hard to spot many insects from a moving vehicle. Butterflies are exceptions, but in this season they are uncommon. A couple of sulphurs, some grass yellows, and the Psyche were the only things I managed to spot.
We were not really paying attention to birds, so we missed identifying many of the smaller birds. We did not see any vultures or shrikes. The list of identified birds is here.
Grey jungle fowl
Painted spur fowl
Peacock
Lesser flameback woodpecker
Brown-headed barbet
Grey hornbill
Indian roller bird (Image E)
Common kingfisher
Pied kingfisher
White-breasted kingfisher
Green bee eater
Common hawk cuckoo
Sparrow hawk cuckoo
Lesser coucal
Rose-ringed parakeet
Alexadrine parakeet
Palm swift
Collared Scops owl (Image A)
Barred jungle owlet
Indian nightjar (Image C)
Spotted dove
Collared dove
Red turtle dove
Yellow-footed green pigeon
Black-winged stilt
Red-wattled lapwing
Black-shouldered kite (Image B)
Crested serpent eagle
Besara
Shikra
Oriental honey buzzard (Image D)
White-eyed buzzard
Changeable hawk eagle
Little cormorant
Darter
Little egret
Median egret
Cattle egret
Pond heron
Grey heron
Black Ibis
Glossy Ibis
Oriental stork!!!
Indian Pitta
Rufous tree pie
Black-headed oriole
Black drongo
Racket-tailed drongo
Ashy drongo
Paradise flycatcher
Orange-headed ground thrush
Tickell's blue flycatcher
Oriental magpie robin
Brahminy starling
Common myna
Pied myna
Red-vented bulbul
White-cheeked bulbul
Tailor bird
Jungle babbler
Common babbler
Jungle bush quail
Sirkeer Malkoha
Lesser whistling teal
Purple moorhen
---
© Sourendu Gupta. Inputs from Doreen D'Sa. Created on 2 June 2013.