---
The Seismic Environment of Mumbai
---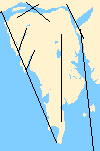 There have been claims that Mumbai is prone to moderate intensity earthquakes ranging up to about 6.5 on the Richter scale.
Mumbai lies over more than 10 seismic fault lines (black lines in the map). Major fault lines lie along the Thane creek, Ulhas river, the Manori and Malad creeks and the lakes. To the west, a fault line stretches from Colaba to Vasai, touching Malabar hill.
A major junction of three faults, the Thane, Panvel and Dharamtar creeks lies close to the Oil and Natural Gas Commission's oil plant in Uran in New Mumbai.
The coastal plain to the east of Mumbai is prone to earthquakes of even higher intensity, upto 7.5 on the Richter scale. In this region the black volcanic rocks of the Western Ghats have been eroded by the action of the sea. The resulting relief of pressure on the underlying rocks has created many fault lines along the coast.
---
© Copyright and disclaimer; Created on Jun 18, 1998.